A lot of people set out on a charted career path, but like many in her field, Patricia's professional life evolved from personal experience.
Long before long term care planning had become a conventional part of retirement planning, Patricia's father, a retired firefighter, had a massive stroke that left him unable to walk or speak. With limited resources and a need to take charge and do what she thought was right, Patricia's mom took him home after several weeks in the hospital and became his caregiver 24/7. Following a time of exhaustive caregiving and overwhelmed by its demands, she reluctantly placed him in a nursing home where he received care for the last 3 years of his life.
Years later, Patricia's mom showed symptoms of Alzheimer's that lead to a need for full time supervision. With sadness, the family moved her to the same facility where their dad had been. She lived there 10 years before she passed away.
---
Patricia is a native of Duluth, MN, a graduate of University of MN Duluth, wife, and mother of two daughters. She was employed as a teacher for several years, but eventually worked in husband Patrick's financial advisory firm as an administrative assistant.
Patricia understands that families want to step in as caregivers but has also witnessed firsthand the physical, emotional, and financial toll of caregiving. With her background as a teacher and the experiences with her parents in mind, she turned her career focus to long term care planning.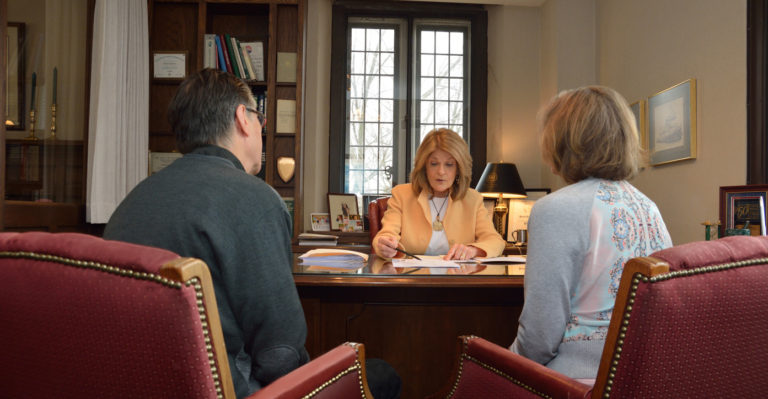 Since 1997, Patricia has been consulting with individuals, business owners, employers, and employees in the upper Midwest to design and implement solutions for long term care needs that support their overall planning goals.
Patricia and husband Patrick live in Duluth MN and have been involved in numerous community projects, most notably the Duluth Heritage Sports Center. They have two grown daughters and four grandchildren.
---
Professional Recognitions and Associations:
Published a three part article series on long term care insurance in 2001 in Your Life Magazine, a local publication.
Achieved the national designation of Long Term Care Professional in 2003 following completion of extensive coursework and subsequent examination on long term care needs and options for care; methods of financing long term care, including private savings, government programs, and insurance products; the long term care insurance evolution, underwriting and claims process; and the impact of government regulations. View Article »
Recognized by the American Association for Long-Term Care Insurance as one of the top long term care insurance professionals in the state of Minnesota. View Article »
Appointed by Lt. Governor Yvonne Prettner Solon in 2013 to serve on the Minnesota Own Your Future panel charged to identify private financing options and recommend new approaches for the financing of long term care. Own Your Future is a statewide education and awareness campaign sponsored by the State of Minnesota and the U.S. Department of Health and Human Services to encourage individuals to plan ahead for their long term care needs. View Article »

Member of American Association for Long-Term Care Insurance

Member of the National Association of Insurance and Financial Advisors

Member of the Center for Long Term Care Reform