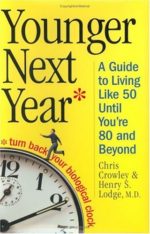 Because his message is so important, and because he actually can help you be 'younger next year', I have joined Whole Foods Coop, Essentia Health, Duluth News Tribune, Maurice's, Minnesota Power, and the City of Duluth in inviting Chris Crowley, author of New York Times best-seller Younger Next Year, to Duluth for a live performance on May 30, 2013. 
In demand as a keynote speaker nationwide, Chris uses passion, energy, optimism and humor to tell his audiences how they can remain strong and fit well into their 80's, and he is changing lives everywhere.
Join us!
DECC Auditorium
7:00 pm
It's free and open to everyone.  See you there!!
Read more about the event from Cheryl Reitan on UMD's Homepage at http://www.d.umn.edu/external-affairs/homepage/13/younger.html